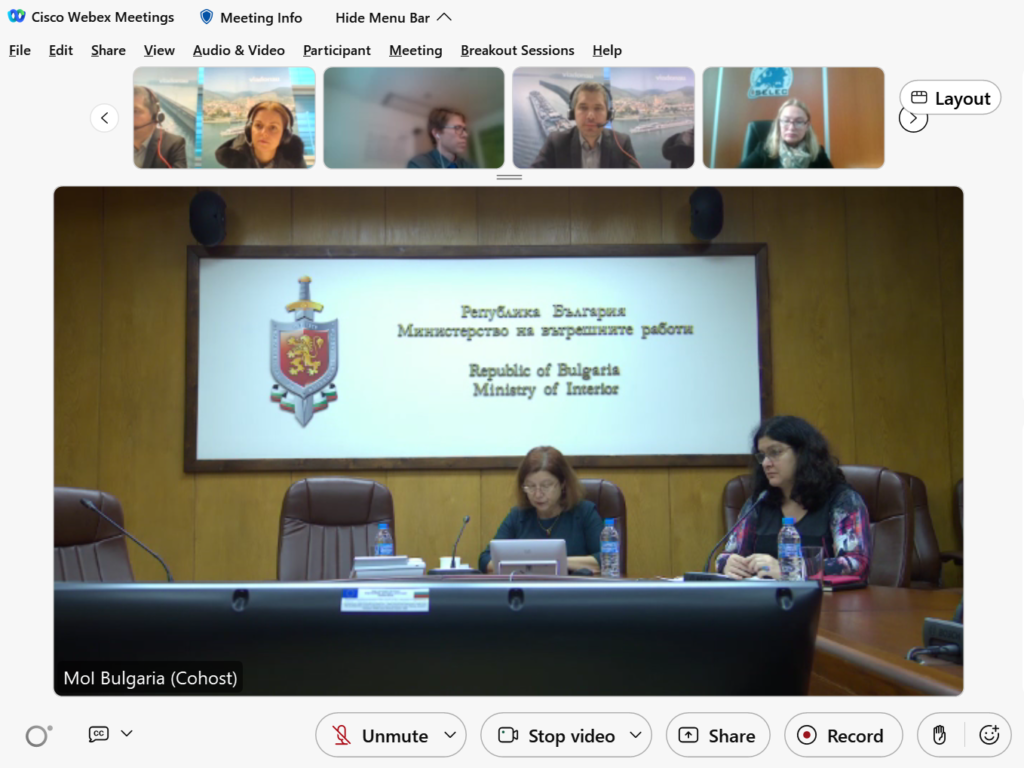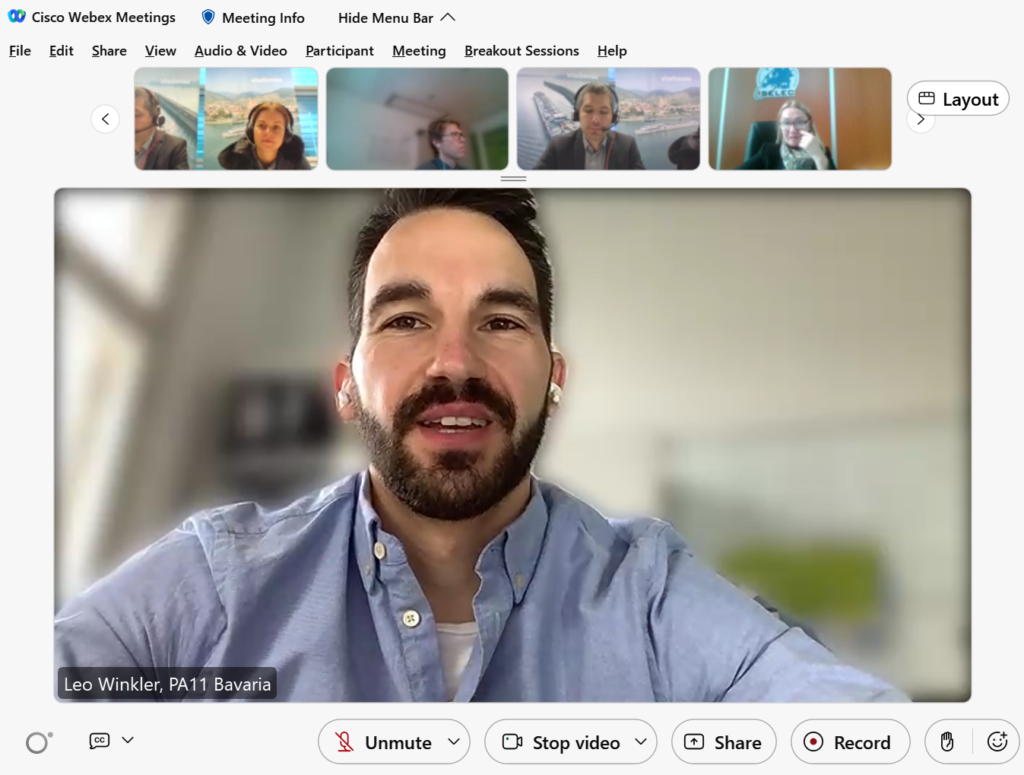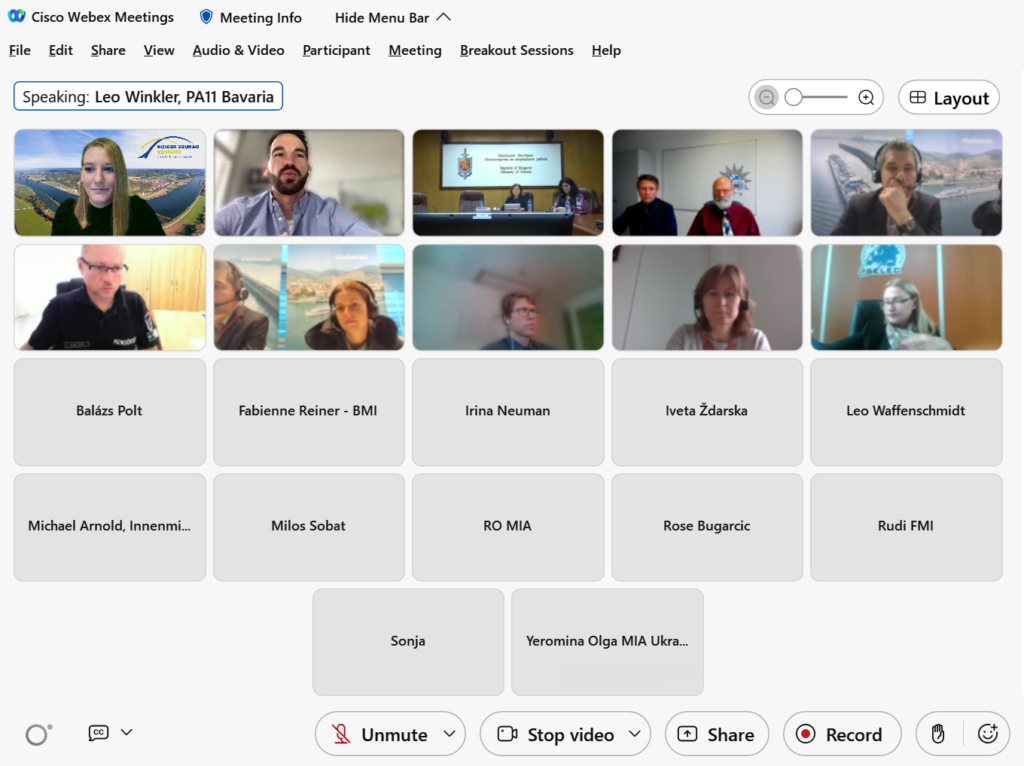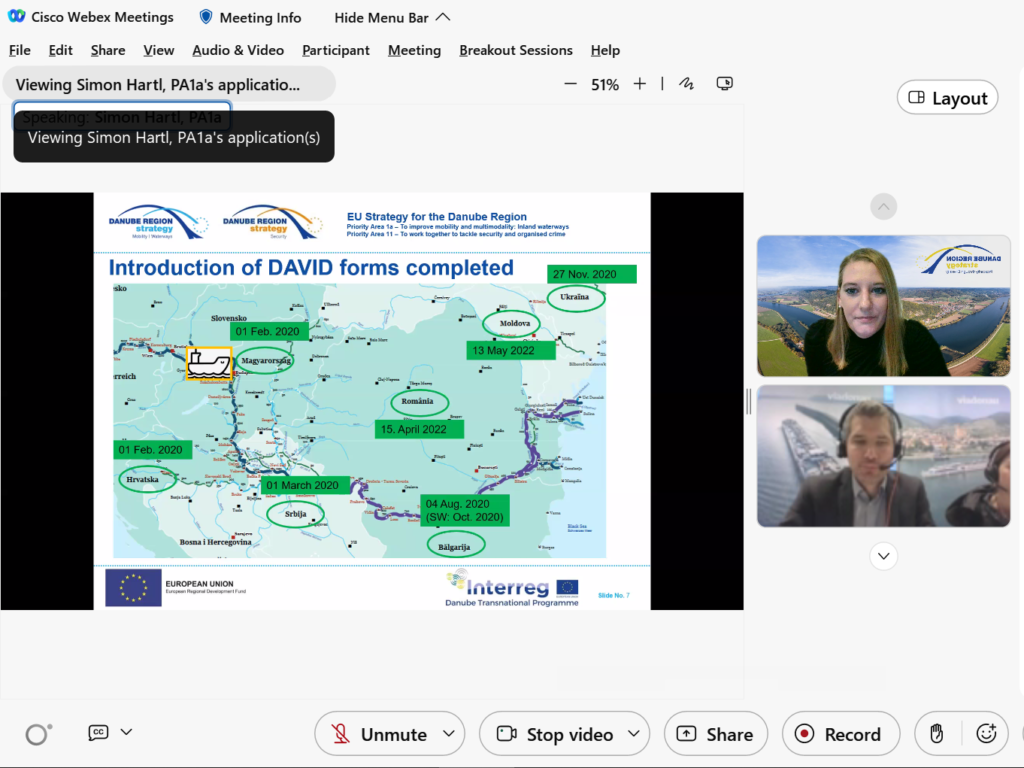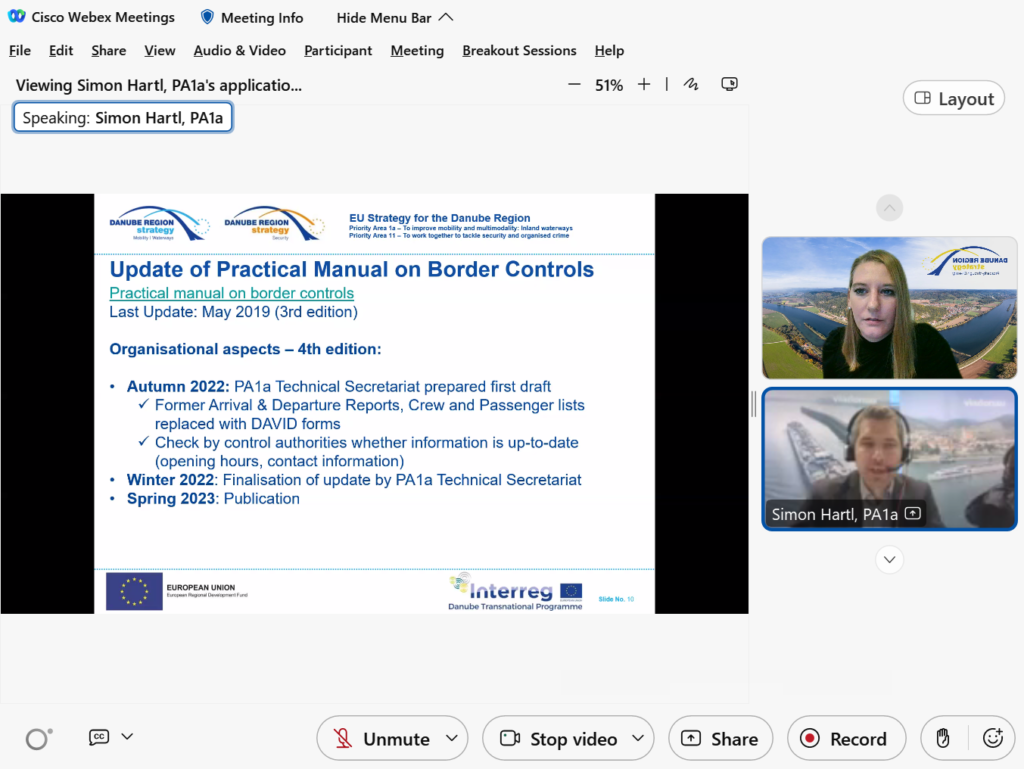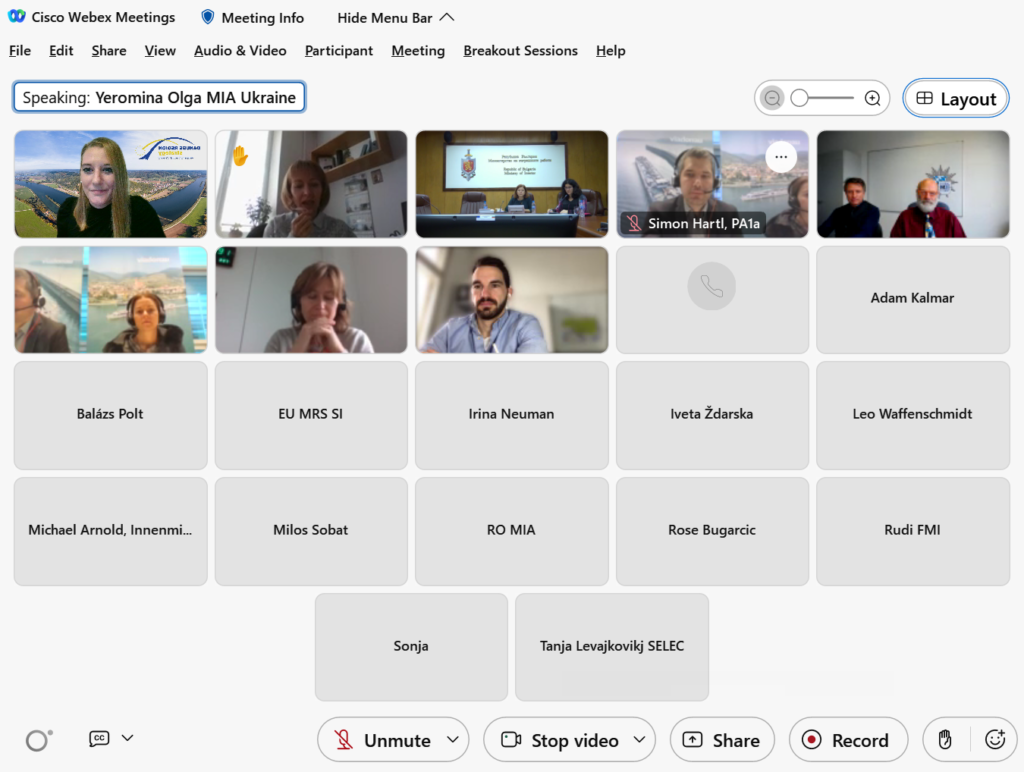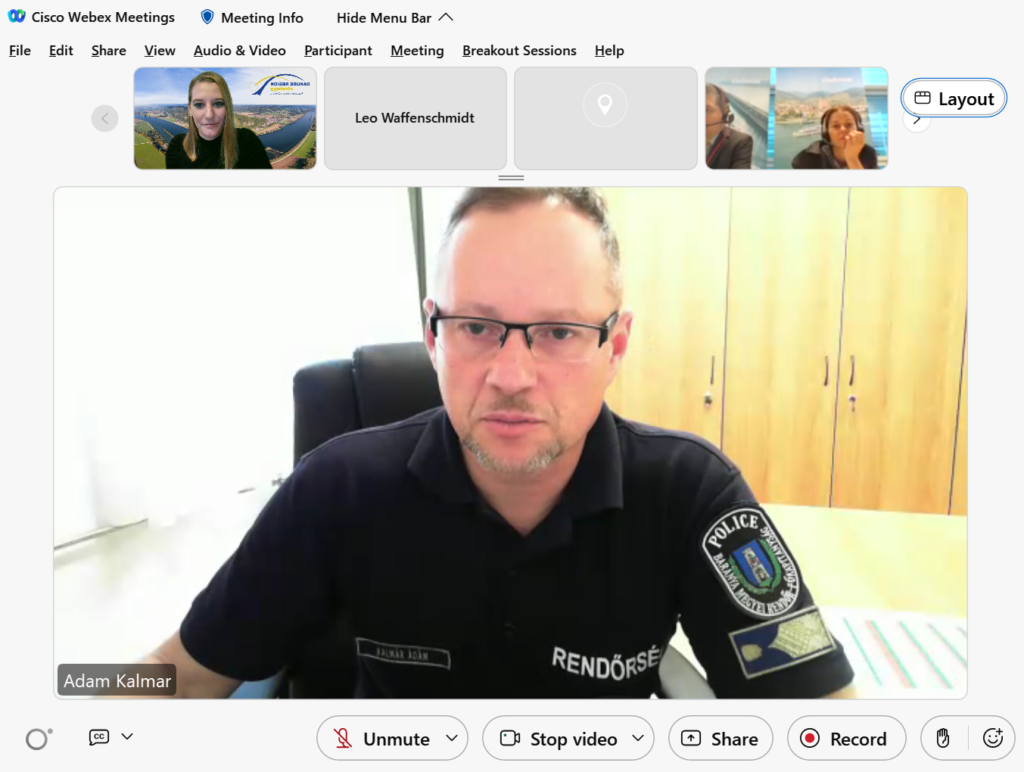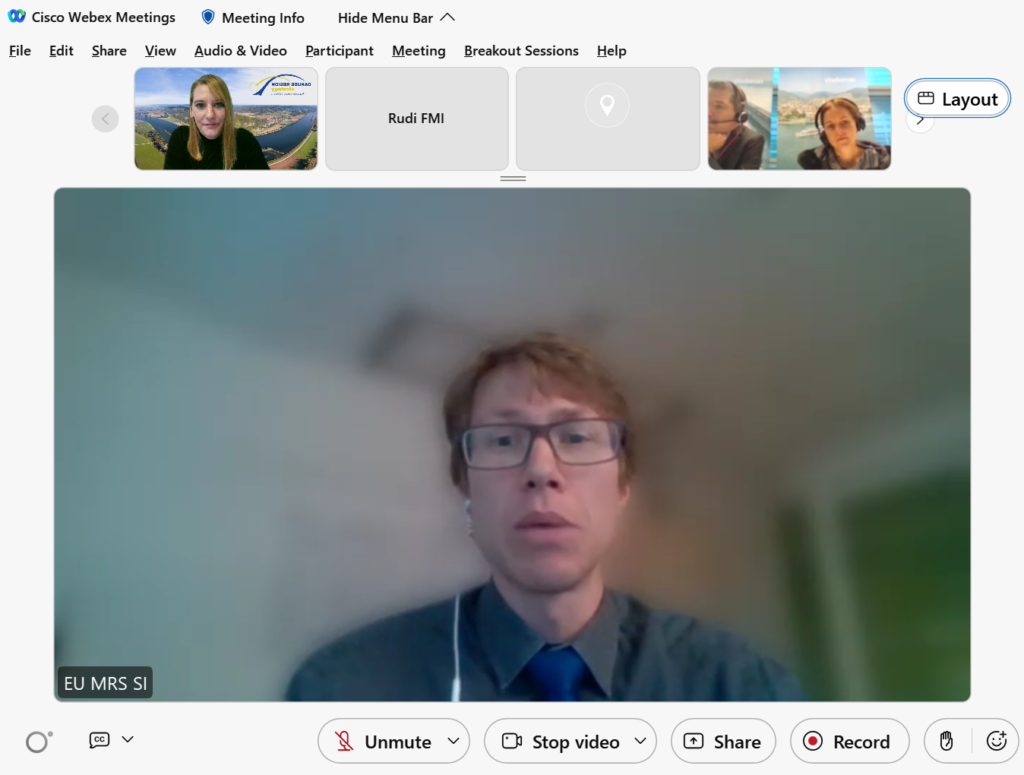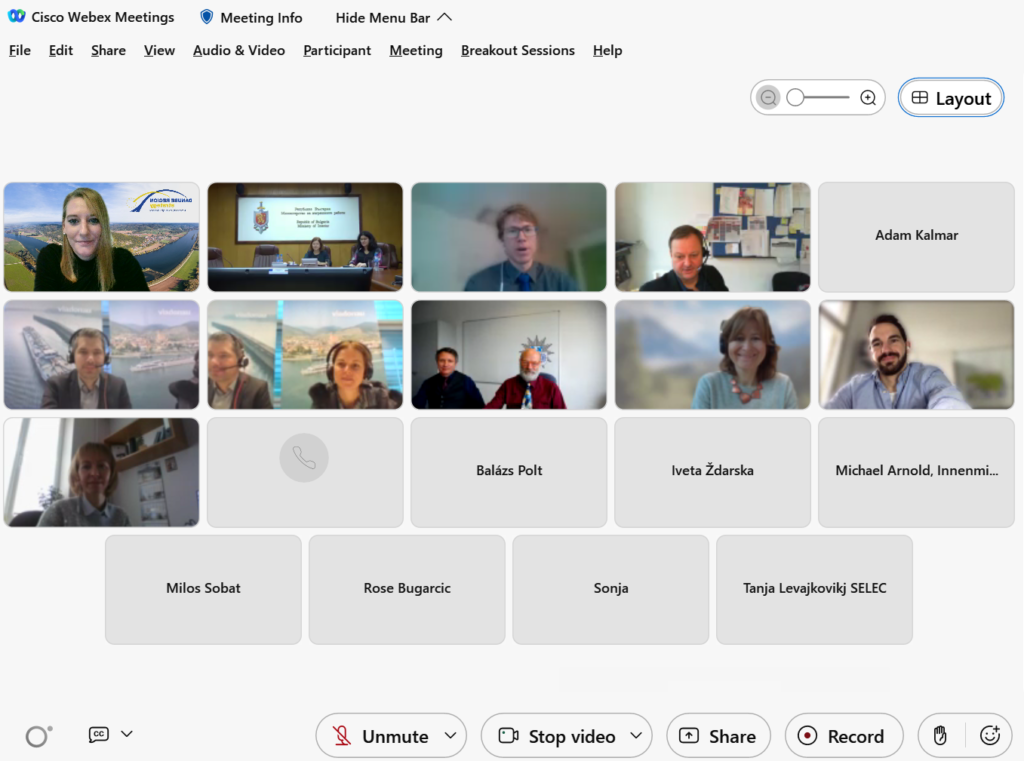 The XXII meeting of the Steering Group meeting of PA 11 Security took place on 22 in an-line environment.
The following EUSDR countries participated: PAC from the Federal Ministry of Interior of Germany, representative of PAC from the Ministry of Interior of the Free State of Bavaria, the PAC from the Ministry of Interior of Bulgaria, Austria, Baden-Wuerttemberg (Federal Republic of Germany), Bosnia and Herzegovina, Croatia, the Czech Republic, Hungary, Slovak Republic, Serbia, Romania and Ukraine. The meeting was also attended by the Technical coordinators of EUSDR PA 1a Waterland mobility and PA 11  Security responsible for the joint cooperation between the two priority areas; a representative of DG REGIO, EU Commission; the EUSDR Deputy National Coordinator of Slovenia, a representative from SELEC, and the DSP pillar officer.
The meeting was chaired by PAC from Bulgaria.
The following topics were discussed:
Horizontal cooperation between PA 1a and PA11 with a focus on the implementation of the agreed measures and future steps;
The development of EUSDR for the second half of 2022 – this topic was presented by the DSP revealing the progress in the sub-topics of embedding, monitoring, capacity building and the establishment of the Danube Youth Council.
Further to that a representative of the Munich Police presented the outcomes of the seminar of fight against domestic burglaries held in October in Ainring, Bavaria. Two follow-up seminars are envisaged under the new project for PAC support under the Danube Region Programme.
Another events closed linked to the work of PA 11 took place in September, namely the 9th DARIF Joint Operation organised by Hungary. A representative from the Hungarian MoI revealed the organisation and the main results of this successful event. An on-line  survey was ealborated in 9 languages after the operation to make an assessement of the efficiency of bordor controls along the Danube. The results will be published in 2023.
In the end of the meeting we were pleased to hear the Deputy National Coordinator from Slovenia who outlined the main thematic and institutional priorities of the Slovenian Chairmanship of the EUSDR. Being a participant in 3 MRS, Slovenia has an experience in macro-regional cooperation and PA 11 could benefit from their expertise.
For the next year two events important for PACs were already scheduled – the PAC meeting on 16 and 17 of March 2023 and the major event under each Presidency, the Annual Forum scheduled on 24-25 October 2023.